Netherlands vs. Uruguay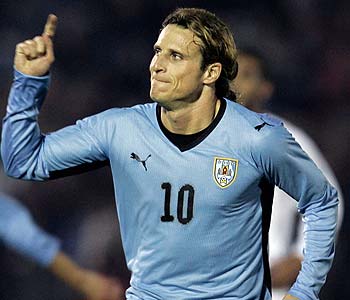 If somebody told you a month ago that these were two of the teams to meet in the semi's would you have believed them? I wouldn't have. Although I am not too surprised by Uruguay because of their lighter path, I am by the Netherlands. They're a very good squad but Brazil is so dominant. I expect this to be a close match-up. Netherlands hasn't really played well until their upset over the Brazilians. I think Uruguay has some great talent as well and can send the cup back to South American soil.
Prediction:
Uruguay
1-0 (Extra Time)
Spain vs. Germany
Two powerhouses clash. Germany has been the more consistent team in this WC. Spain has been just merely getting by. I wouldn't be surprised to see Germany kinda stack their
back line
and force Spain to win it. Spain needs to be on it's game from the get go because as Argentina saw, if you don't come out on top of your game right away they will blow you away.
Prediction:
Germany
2-1