After some impressive wins, including Notre Dame and the pummeling of Michigan St., UNC is easily the favorite to cut down the nets in April.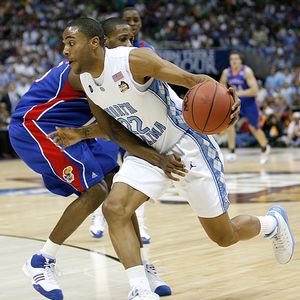 It's not supposed to be like this; a team this well-coached, talented, and this high-caliber, is not supposed to return 10 of 11 players, 4 of whom could've been drafted in the NBA. Tyler Hansbrough, Ty Lawson, Wayne Ellington, and Danny Green all decided to return.
North Carolina looked so good and so much better than everybody else in the country after the 98-63 drubbing of 12th ranked Michigan St.
UNC looked so dominant and just too deep and talented against a Michigan St. team, who is expected to be a Final Four contender this year.
UNC manhandled the Spartans, they had too much speed. Hansbrough and Deon Thompson were too much down low and Lawson and Ellington made Kalin Lucas and Travis Walton look like high-schoolers.
Which comes to the question, can anybody beat this Tar Heel squad? It's almost like they're destined for a Final Four and National Championship run, it's only a matter of time.
It's tough to argue against them. They could easily finish the regular season undefeated. They have tough road games at Wake Forest, Miami and the annual showdown with Duke. But I don't see them losing any of those right now even.
The NCAA Tournament could be different. Really, if you ask me, there are only two teams right now that could give the Heels a run for their money.
That's the UConn Huskies and Gonzaga Bulldogs. Both teams have strong frontcourts and could hold down the Heels' inside.
We all saw what Josh Heytvelt did to Hansbrough two years ago. Then there's 7-3 Hasheem Thabeet. I feel he is the best big in the country and he could cause problems inside for the Tar Heels, were they to meet.
The Huskies could give match-up problems with UNC. Thabeet down low on Hansbrough, Jeff Adrien could be a tough match-up with Thompson and guards AJ Price, Jerome Dyson, and Craig Austrie can play with the Heels' guards. But UNC's depth could off-set that difference.
As for Gonzaga, this may be their best team yet, they finally have the depth and the toughness to go all the way.
But all in all, it will be hard to bet against this North Carolina team right now.