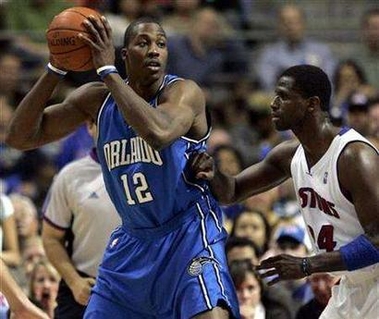 Here's TSF's NBA Power Rankings as of 12/11.

1. San Antonio Spurs
The Spurs have been impressive even without Tim Duncan. Manu Ginobli is looking to be the sixth man of the year as he scored 37 points twice in back to back wins over the Mavs and Jazz. The Spurs have been themselves lately, playing team basketball, winning, and holding opponents to 92.5 ppg, plus they're on a 5 game winning streak and have won 11 of their last 12.
2. Boston Celtics
The Celtics have just about dominated in all of their games. It seems Kevin Garnett, Paul Pierce, and Ray Allen are always on their games and even if one or two of them are off, they still have the 3rd. Also, I should mention those 3 are all in the top 35 for points in the league.
3. Phoenix Suns
The Suns rank in the top 10 of the league in ppg (2), FG% (2), and spg (6). Steve Nash has been incredible once again with his 17.9 ppg and 12.3 apg.
4. Orlando Magic
Dwight Howard has been a monster and good thing he's on my fantasy team; He's 10th in the league in ppg (23.5), 2nd in FG% (.614), 1st in rpg (15.0), and 3rd in bpg (2.9). Four of the Magic's six losses are against the Pistons, Suns (2), and Spurs.
5. Utah Jazz
Utah has had no trouble scoring so far thanks to Carlos Boozer, who is averaging 25.1 ppg. Deron Williams is also an emerging top NBA PG. Big road games coming up against Phoenix and Portland.

6. Detroit Pistons
The Pistons have won 8 of the last 10 games and are shooting the ball pretty well lately. Rip Hamilton has finally found his shooting touch and this team looks like their same olf selves again. The defense has been pretty stout giving up only 91.9 ppg.

7. Dallas Mavericks
I don't really like the Mavs right now. I don't know, maybe it's because of personal reasons or maybe it's because they lack a defense... That's the question that's been barring Avery Johnson, can he get his team to play some D so they can win a title? Giving up 100.1 ppg and 45.7 FG% won't cut it in the west.

8. New Orleans Hornets
The Hornets have been a little bit of a surprise thus far. They don't give up a lot of points and they can shoot the ball pretty well. Also, I heard Chris Paul is pretty good (21.0 ppg and 9.8 apg)...
9. Los Angeles Lakers
I will give the Lakers the nod over the Nuggets because of their two wins over them. It seems Kobe's grievance for Andrew Bynum is over. As long as Kobe stays healthy, this team will be a playoff contender.
10. Denver Nuggets
Allen Iverson has been tough lately and has been scoring from all over (put up 51 on the Lakers). We all know this is a very good offensive team, but it's the defense they need to improve in order to get over the hump (102.1 PA/G).
Right around the corner...
Rockets, Warriors, and Raptors.