Here's our latest and up to date rankings.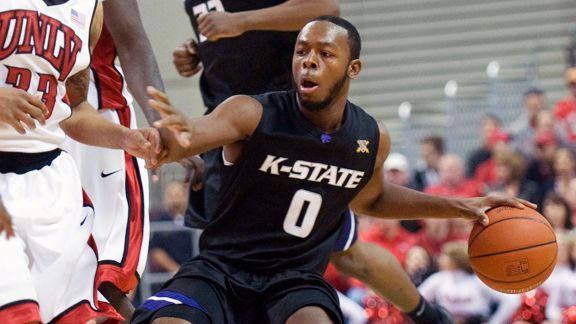 1. Michigan St.
Key returnees: Kalin Lucas, Korie Lucious, Draymond Green, Delvon Roe
The Spartans are loaded and experienced. They're also coming off of back-to-back Final Fours.

2. Duke
Key returnees: Nolan Smith, Kyle Singler, Mason Plumlee, Miles Plumlee
Duke should have one of the best backcourts in the nation. With three starters back and the additions of recruit Kyrie Erving and transfer Seth Curry, the Devils have a good shot to repeat.

3. Purdue
Key returnees: Robbie Hummsel, Etwaun Moore, Jajuan Johnson, Lewis Jackson
Purdue was in this same spot in last years preseason rankings. If Robbie Hummel stays healthy who knows how far they go. They may not have much depth, but there's plenty of talent around to make a Final Four run.

4. Pittsburgh
Key returnees: Gilbert Brown, Ashton Gibbs, Brad Wanamaker, Trayvonn Woodall
6 of their top 7 scorers return.

5. Ohio St.
Key returnees: David Lighty, Jon Diebler, Willie Buford, Dallas Lauderdale
Add in recruits Jared Sullinger and Deshaun Thomas with David Lighty, Jon Diebler, Willie Buford, and Dallas Lauderdale, and the Bucks could be just as good as last year.

6. Kansas St.
Key returnees: Jacob Pullen, Curtis Kelly, Jamar Samuels, Wally Judge
The loss of Denis Clemente will hurt, but Jacob Pullen is good enough to have the Cats as the early Big XII favorite.

7. Villanova
Key returnees: Corey Fisher, Corey Stokes, Antonio Pena, Maalik Wayns
Nova will once again have a solid backcourt lead by Corey Fisher and Corey Stokes.

8. Kansas
Key returnees: Marcus Morris, Markieff Morris, Tyshawn Taylor, Brady Morningstar
Sherron Collins, Cole Aldrich, and Xavier Henry are impossible to replace. But the Jayhawks will still be a very deep team. They just need to find a consistent go-to scorer.

9. Florida
Key returnees: Alex Tyus, Kenny Boynton, Vernon Macklin, Erving Walker
Watch out for Billy Donovan and his Gators. They return the whole squad. Look for Alex Tyus and Kenny Boynton to impress.

10. North Carolina
Key returnees: John Henson, Tyler Zeller, Larry Drew, Dexter Strickland
Regardless of what people might think UNC should be back again next season. Harrison Barnes is already regarded as the number one pick for 2011. Depth could be an issue though.

11. Baylor
Key returnees: LaceDarius Dunn, Quincy Ace, Anthony Jones, A.J. Walton
Ekpe Udoh and Tweety Carter will be big losses but recruit Perry Jones should help keep them as one of the best in the Big XII.

12. Missouri
Key returnees: Kim English, Marcus Denmon, Michael Dixon, Justin Safford
Mike Anderson has people talking again in Columbia. They do lose 3 starters but return their top 3 scorers. Kim English is ready to break out; Tony Mitchell and Phil Pressey lead Zou's best class in several years.

13. Washington
Key returnees: Isiah Thomas, Venoy Overton, Justin Holiday, Matt Bryan-Amaning
The Huskies finally lived up to their potential in the postseason. They do lose Quincy Pondexter, but there's still plenty left in the stable.

14. Illinois
Key returnees: Demetri McCamey, Mike Tisdale, Mike Davis, D.J. Richardson
This will be a senior-laden team that has been scratching the surface waiting to break open. Next year will be that year.

15. Syracuse
Key returnees: Kris Joseph, Brandon Triche, Scoop Jardine, Rick Jackson
The loss of Wes Johnson, Arinze Onuaku, and Andy Rautins hurts, but frosh Fab Melo is ready to step up. The starting five should be one of the best in the land.

16. Gonzaga
Key returnees: Steven Gray, Robert Sacre, Demetri Goodson, Elias Harris
With a dominant front line and talented backcourt, this could potentially be the Zags' best team yet.

17. Kentucky
Key returnees: Darius Miller, Darnell Dodson, DeAndre Liggins
They'll be one of the youngest teams in the nation again. But they'll be very good despite losing 5 draft picks.

18. Temple
Key returnees: Juan Fernandez, Lavoy Allen, Ramone Moore, Michael Eric
The Owls lose their stud in Ryan Brooks, but a strong nucleus returns to keep this team a huge threat.

19. Georgetown
Key returnees: Austin Freeman, Chris Wright, Jason Clark, Julian Vaughn
This team would have been top 3 had Greg Monroe stayed, but everyone else is back.

20. Virginia Tech
Key returnees: Malcolm Delaney, Dorenzo Hudson, Jeff Allen, J.T. Thompson
This is a senior-laden team ready to make some in the ACC.