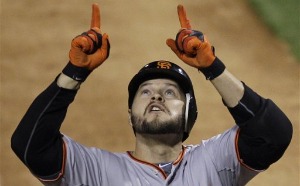 Why didn't anybody see this coming? The reasons are clear why the San Francsico Giants and Texas Rangers are facing off in the World Series. Sure, the Rangers have never been here before and the Giants haven't been in the playoffs since 2003, but it's pretty obvious.

The Rangers have the best offense in all of baseball right now. They're deep, they get base runners and they have huge bats in the heart of their order. The addition of Vladimir Guerrero and his stellar play (.300 avg, 29 HR, and 115 RBI) put a lot of pressure off of Josh Hamilton, Nelson Cruz and Michael Young. Elvis Andrus and Ian Kinsler have been productive at the top, letting the big boppers drive them in. This Ranger order is arguably the best in baseball.

I won't forget the pitching either. Cliff Lee gave them an ace this team desperately lacked. I always felt they were a couple of solid pitchers away from being a very dangerous team. C.J. Wilson and Colby Lewis are young guys who have also stepped up.

As for the Giants, it's clear their pitching is the reason they're still alive. They boast a phenomenal rotation and a very underrated bullpen. Perhaps the best in all of baseball. From September until the end of the season Brian Wilson converted 11/12 save opportunities. Sergio Romo allowed 0 runs and 3 hits in 14 appearances. Javier Lopez had a 1.59 ERA in 12 games. Santiago Casilla and Ramon Ramirez combined for .36 ERA in 25 innings.

I also have to mention Cody Ross. The Philly killer is another reason San Francisco is playing in the W.S. The Giants also have the potential to hit one out of the park at any point in the game. We saw Juan Uribe knock out the winning HR in Game 6 and he's their 8 hitter. The offense may not be potent, but it can do it's fair share of damage.

As we know now, it's clear why these two ball clubs are playing in the World Series. Texas's Offense and San Fran's pitching. The only question that remains, is which aspect will prevail in the end.