3 Reasons why Florida will win: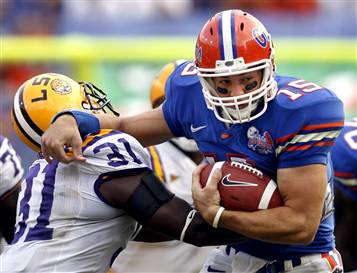 1. Speed
Florida is easily the fastest team in the country. Oklahoma needs to account for everybody that Florida puts out on the field with the threat to take one all the way at anytime. That's Percy Harvin, Jeff Demps, Louis Murphy, Chris Rainey, Emmanuel Moody, and Brandon James.We know Urban Meyer will try to spread the field and use their speed to his advantage and also try to get his speedsters the ball in space.

2. Defense
Florida has one of the best defenses in the country. Oklahoma has faced some poor defenses all season long in the Big 12. Florida creates a ton of pressure up front and their LBs are among the best in the nation lead by Brandon Spikes. Don't count out the secondary, they have some speed as well and will fly around and smack you in the mouth.

3. Tim Tebow
Tebow's already won a Heisman and more importantly, a national title. It doesn't help that OU has been talking some trash, more specifically at Tebow. He's the guy you don't want to mess around with. Tebow will beat you with his legs and even his arm. He's a better QB than he's ever been and he can hurt you in so many ways.

3 Reasons why Oklahoma will win:
1. Offense

Oklahoma can spread you out as well. They have some big-time playmakers on their side and Sam Bradford can pick you apart all day. They can throw in front of you or even go long. Jermaine Gresham is arguably the best TE in the country and could pose some match-up problems for the Florida defense. The Sooners have some quality skill position players and will use it to their advantage.

2. The Trenches
Specifically on the offensive end, OU has one of the best lines in the country. Lead by All-American OT Duke Robinson and Big 12 1st-teamers C Jon Cooper and OT Phil Loadholt have dominated all season long. They've only given up 11 sacks all season. I give them a slight advantage over the Florida D-Line.

3. Senior Leadership
Florida only has two senior starters, both on offense and only two starters back from the 2006 BCS National Championship team (LT Phil Trautwein and Percy Harvin); plus, only a handful of players back whom actually played in that game. OU has 8 senior starters. Safety Nic Harris will start the 50th game of his career and the o-line has a combined 170 total starts. Experience is always a big key.

Prediction:
Florida 34 Oklahoma 20

Oklahoma hasn't seen a defense as good as Florida's all season long. Florida's speed could offset just about everything else in this game. Florida is ready and Tim Tebow is furious after losing the Heisman to Bradford and the comments coming from the Oklahoma players. Florida has an advantage just about everywhere in this game. They have better depth, coaching, speed, special teams, defense, and even offense. Plus, RB DeMarco Murray and DT DeMarcus Granger are both out.

The Big XII is overrated, as has shown this bowl season. Texas squeaked by Ohio St., Texas Tech got pounded by Ole Miss and Oklahoma St. was upset by Oregon, while the SEC is sitting 5-1 in their bowl games. The SEC has definitely shown they are the best conference once again and they haven't lost in the BCS National title game with a 3-0 record. Look for that trend to continue after Thursday night.