East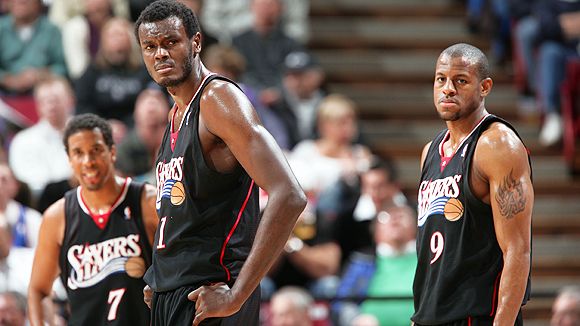 1.
Boston Celtics
They're the defending champs and still have the playmakers to get it done once again. The "Big 3" are back and should be the favorite to win it all. After what Kevin Garnett, Paul Pierce, and Ray Allen did last season there's no way you can question their age. The Celtics play the best defense in all of the NBA and it truly showed last season. It wasn't just all the "Big 3", PG Rajon Rondo stepped up and made plays. Kendrick Perkins is a capable presence at center but if his shoulder doesn't get any better they can still play Leon Power or Garnett there. Tony Allen and Bill Walker could contribute off the the bench. It should come down to defense and the role players if the Celts wanna win another title.
2. Philadelphia 76ers
The Sixers can definitely contend with Boston in the Atlantic. They picked up Elton Brand over the off-season and he is as healthy as he's been since being injured from the beginning. Look for Andre Igoudala to improve even more, he has tremendous upside and is truly becoming a superstar. Andre Miller is the veteran PG that they need to help them get over the top. Thaddeus Young is young but should improve. Philly should also have a solid bench lead by Willie Green, Reggie Evans, and rookie Marreese Speights. Look for the Sixers to be improved this season. 50 wins is not out of the question.
3. Toronto Raptors
The Raptors have the potential to be one of the top teams in the league. They have a dominant front court in Chris Bosh and newly acquired Jermaine O'Neal. Jose Calderon is a solid PG and Anthony Parker can shoot the trey, but the one thing that this team lacks is bench depth.

4. New York Knicks
Isiah Thomas gone... check. New coach that will get this team in the right direction... check. Stephon Marbury gone... no check. Knicks will make the playoffs this year... no check. There's no doubt this team has the talent but they've lacked the coaching and chemistry. Now with Mike D'Antoni at the helm they can definitely turn it around. Zach Randolph, Eddy Curry, and Jamal Crawford can get this team to compete again.
5. New Jersey Nets
This looks as a rebuilding year for the Nets after trading Richard Jefferson over the summer and are now looking to deal Vince Carter. Gone are the veteran superstars of this team, other than Vince Carter (for now). If Carter isn't gone before the season starts, he'll be gone somewhere throughout the season. But this is still a very formidable team with Yi Jianlian, Josh Boone, Bobby Simmons, Devin Harris, and Sean Williams. But all in all, look for this to be another down year as the Nets look to rebuild.