It's time for our first rankings of the season for College Hoops.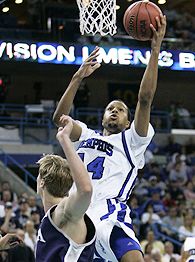 1.(Tie)
Memphis & Kansas

It is still tough to tell who is the clear-cut number one. Both Memphis and KU are very similar in many ways. They both play the same type of game, fast paced and rely on their speed and athleticism. Both have some great wins with Memphis beating Georgetown, USC, Arizona, and Gonzaga and KU topping Arizona and USC. Memphis may have a few bigger wins but the Big XII schedule evens it out for Kansas. We may not know who is the "true" number one until one of these team loses or maybe not until they meet in the NCAA Tournament.
3.
North Carolina

I'll take UNC over Duke even though the Heels lost to Maryland and Duke beat them. UNC is still one of the best teams in the country with one of the best point guards in Tywon Lawson. We may know more a little more about the depth and toughness of this team after a tough stretch with games vs. Boston College, at Florida St., and a February 6 showdown with Duke.
4.
UCLA

UCLA does have two losses but they were both to two great teams in Texas and USC. The Bruins have been dealt with some injuries so I will give them the benefit of the doubt. Darren Collison finally seems to be 100% and Josh Shipp is one of the best players in the country. Once they're fully healed and everyone is back they will be poised to make a title run.
5.
Duke

Duke is a great team but I am not really sure yet if they can hang with Memphis, Kansas, UNC, or UCLA. They don't have a dominating post presence and their guards are pretty weak. I don't know if Jon Scheyer and Greg Paulus can hang with the other top guards on those teams. But Duke has been very impressive with some good wins. They're a young team and if they can knock off UNC next week, they will definitely turn my head.
6.
Georgetown

I probably shouldn't admit this, but it will only benefit you with my expertise, but I feel Georgetown will be another legit Final Four team. I was one of a few last year who thought they were a Final Four team at this point in time last season. I don't see any reason for that to change this year. They have the type of offense that can control the tempo of the game, a dominating inside presence with Roy Hibbert and other big men in Vernon Macklin, Pat Ewing Jr., and Dajuan Summers that will just wear you down physically and emotionally. They have some great wins thus far and they always seem to win the close ones.
7.
Michigan St.
I really like MSU right now as well. They play great team defense and Drew Neitzel is one of the best and most experienced PG's in the land.
Raymar Morgan
has been a pretty big surprise so far as he leads the team with 16.6 PPG.
8.
Tennessee

Except for the loss to Texas, the Vols have been great. They have balanced scoring with 4 players averaging double figures and 2 more averaging 8.9 PPG. As of right now I really like Tennessee to win the SEC and push for a 2 seed, maybe even a 1 seed with no other top teams being from the SEC this season.
9.
Washington St.

WSU is a team that could push UCLA for the conference title. They lost a close one to the Bruins a few weeks back and they showed last year that they are the real deal. They play great defense and are a team that can really control the tempo. Also, they have some depth that will help them make a deep run in March,
10.
Texas

Texas has had some tough losses lately, one of them was on a last second shot to Wisconsin. They've shown they can win the
big games without Kevin Durant
. They have one of the best back-courts in the nation in D.J. Augustin and A.J. Abrams. Their showdown with Kansas will be a good one!
Next Up:

Butler, Indiana, Wisconsin, Stanford, Drake, and Xavier,