The U.S. Mens Basketball team finally looks like a program once again, instead of a team just put together.


After three impressive wins, U.S. Basketball is starting to look like its old self again. Mike Krzyzewski has put together a team that knows how to play true fundamental basketball, which is the main reason why the U.S. has lost it's dominance in recent years, other than selfish, fancy basketball along with dunks and individual moves.

With a starting lineup composed of Jason Kidd, Kobe Bryant, Lebron James, Carmelo Anthony, and Dwight Howard there's no reason to believe the U.S. can't return to power like it did back in the 80's and 90's. Everybody on this team, at least during the FIBA America's Tournament at least, has shown they can share the ball, make the extra pass, and play hard-nosed defense. The team has held it's first three opponents to 30.9% shooting and have averaged 116 points per game thus far.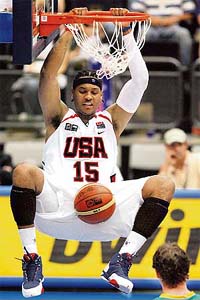 Over the past few seasons the American squad has not had its best players play. I would have loved to see Kevin Garnett, Tracy McGrady, Gilbert Arenas, or Tim Duncan play. Maybe we could have won with a few more of our best of the best in the NBA. But now Coach K has put together a team that will win the Tournament of Americas and no doubt in my mind should win the Olympics.


As a basketball fan, especially an American one, it has been frustrating how the U.S. has lost its prestige over the world. With a team composed of NBA players such as Kobe, Lebron, Carmelo, Howard, Kidd, Michael Redd, and Amare Stoudemire, there's no way this team should come up short of an Olympic Gold Medal next summer; it's now or never, because if the U.S. doesn't win this time around, they may never regain their power ever again.