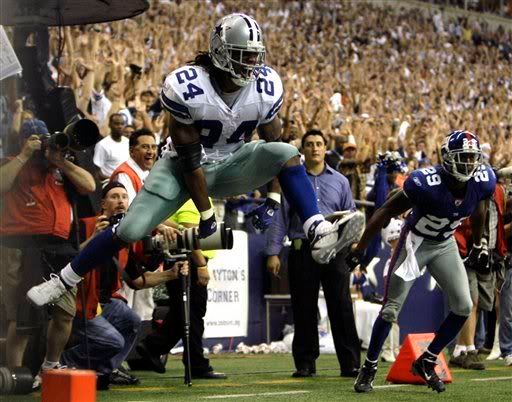 1. Dallas Cowboys (13-3 in 2007)
Cowboys owner Jerry Jones didn't rest on his laurels after a 13-3 season. Unexpected playoff losses cause that. Jones added speed to his offensive backfield with Felix Jones and moxie to his defense with Zach Thomas. Adam Jones and Mike Jenkins round off what is the best defensive backfield and have skills for man-to-man. Marion Barber and Felix Jones don't miss a beat from the old Jones-Barber combo. They'll probably be even better. Tony Romo holds his performance in the passing game, and the pass defense gets better. I don't see how this team doesn't repeat as division champs.
Key Additions: LB Zach Thomas, CB Adam Jones, RB Felix Jones Jr., CB Mike Jenkins. OL Flozell Adams signed to six year contract extension.

Key Losses: RB Julius Jones, WR Terry Glenn
Prediction: 12-4
2. New York Giants (10-6 in 2007)
Granted the defense lost a few key players but rookie Kenny Phillips has Giants fans excited. He reminds them of other Miami Hurricanes safeties: Ed Reed and Sean Taylor. Eli Manning enters his peak years as a NFL Quarterback and I must say that the season really rests on his shoulders, or arm. He won't really miss Shockey too much as I think Kevin Boss will be a more than adequate replacement and young WR Domenik Hixon has been mighty impressive thus far. The Giants defense held the potent Patriots offense to 14 points in the Super Bowl. Perform at that level and another playoff run is certain, but probably only as a wild card.
Key Additions: Extended head coach Tom Coughlin's contract. S Sammy Knight, S Kenny Phillips, CB Terrell Thomas

Key Losses: DE Michael Strahan, TE Jeremy Shockey, LB Kawika Mitchell, LB Reggie Torbor, S Gibril Wilson, P Sean Landeta (1985-'93) retired as a New York Giant.

Predicted Finish: 10-6 again
3. Philadelphia Eagles (8-8 in 2007)
DeSean Jackson "the perfect slot guy" who will take defensive pressure off of RB Brian Westbrook. QB Donovan McNabb lamented the team's lack of a playmaker and Jackson may be that guy, though he shows as a return man on the depth chart. This could be McNabb's last year with Philly and he goes out with a flourish. Eagles secondary features Asante Samuel, Brian Dawkins and Lito Sheppard. Whoa! But I still feel like this team is too dependent upon Mr. Westbrook and one injury could possibly give this team a bellow .500 record! Andy Reid once dominated this division. The Eagles are not any worse. The problem is that everyone else is better.

Key Additions: CB Asante Samuel, WR DeSean Jackson
Key Losses: LB Takeo Spikes, DE Jevon Kearse, FB Thomas Tapeh
Prediction: 9-7 contend for wildcard
4. Washington Redskins (9-7 in 2007)
Transitioning to the West Coast for a rookie coach is no easy task. It doesn't help that rookie receivers Devin Thomas and Malcolm Kelly missed significant training camp time and will be minor contributors in the front half of the season.Redskins will likely be 4-5 at the week 10 bye. They have to run the table against the Cowboys, Seahawks (in Seattle), Giants and Eagles for a shot at post-season play. They've done that sort of thing before, but it's a bigger challenge with a rookie coach and the East is just so tough this year I don't see it happening for them.
Key Additions: Head coach Jim Zorn, DE Jason Taylor, WR Devin Thomas, WR Malcolm Kelly, TE Fred Davis. LB Rocky McIntosh and CB Carlos Rogers return from IR.

Key Losses: S Sean Taylor

Prediction: 7-9