Florida takes recruiting title

The Florida Gators came into National Signing Day as the top dog and finished the day on top as expected. The Gators let a couple of top prospects get away in WR (ranked #1 WR in the country) Terrance Toliver and S Chad Jones (ranked number #1 S in the country) to LSU. But still managed to sign 10 five star players, 13 four star players, and 4 three star players, and 12 top 100 players overall. Some key prospects that the Gators signed that could make an impact from the get go could be: TE Aaron Hernandez, WR Deonte Thompson, LB Lorenzo Edwards, DT Torrey Davis, DE Justin Trattou, S Major Wright, and athlete Chris Rainey. All of these players could get valuable playing time early on, especially on the defensive side with only 2 starters returning.

The Gators got on a roll early and late. They got a huge recruiting boost early, especially with the 7 prospects from Lakeland (Fla.) High School and captured recruiting momentum late after winning the national championship. They signed many elite prospects at just about every position, especially on the defensive side. This has to be one of the top recruiting classes of this decade; at least on paper.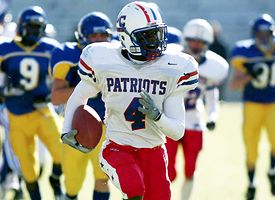 Meanwhile, the nations top prospect, Joe McKnight (inset) decided to go out of Louisiana and sign with USC. The highly touted RB was undecided coming into signing day and also heavily considered LSU, Alabama, and Ole Miss. McKnight should see the field right away even with an already deep rushing attack at USC. McKnight is a superb back and can make a dazzling play at any point. His style of play is often compared to NFL star, Heisman Trophy winner, and USC Alum Reggie Bush.

My Top 5 Signing Day Team Rankings:
1. Florida- landed top prospects from just about every position
2. USC- signed top 3 prospects in the country
3. LSU- signed loads of talent on both sides of the ball and signed some of the bigger names on the d-line and secondary
4. Texas- reloaded on the defensive side and on the much needed 0-line
5. South Carolina- Spurrier has always been a great recruiter and he reloaded with talent all across the board

Scout.com Top 5 Team Rankings:
1. Florida
2. LSU
3. USC
4. Texas
5. Tennessee