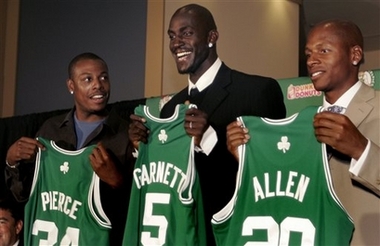 East


1. Boston Celtics
Yeah, so have you heard of the new and improved Celtics? They are now a team that has 3 superstars and should lead them deep into the playoffs. Those 3 are Kevin Garnett, Ray Allen, and Paul Pierce. They're mixed with veterans and young talent, but the PG position could be a problem; Can Rajon Rondo handle the job of being the point man everyday in this league?
2. New Jersey Nets
The Nets have a very good perimeter game with Jason Kidd, Vince Carter, and Richard Jefferson. But the question is will their big men be able to stay healthy? If Nenad Krstic can do that he should be able to put up some eye-catching numbers; I feel he is a very underrated player.
3. Toronto Raptors
The Raptors made the playoffs last year and their playoff hopes are still very strong. Chris Bosh is leading the way and Andrea Bargnani should impress. I think their bench was a big reason why they made the playoffs and if they can produce again I don't see why they shouldn't be back.
4. New York Knicks
The Knicks looked a lot better towards the end of last season. Eddy Curry and Zach Randolph up-front will be a stellar combo. If Stephn Marbury, Jamal Crawford, and Quentin Richardson can put up consistent numbers and play they could make some noise.
5. Philadelphia 76ers
A very inexperienced team in Philly. They're about two stud playmakers away from being a very good team again. Andre Igoudala is starting be one of those playmakers. He picked up the slack after Iverson left averaging 18.2 PPG and 5.7 APG and RPG.
1. Detroit Pistons
Still should be one of the favorites in the Eastern Conference obviously. Chauncey Billups, Richard Hamilton, and Rasheed Wallace are still their same old selves. The defense needs to be improved if they want to be a championship team again.
2. Chicago Bulls
The Bulls should be a big threat again. They are a very young and talented team. I think Joakim Noah was a great pick to help up-front with Ben Wallace and Tyrus Thomas. The guard play should be one of the best in league with Kirk Heinrich, Ben Gordon, and Luol Deng.
3.
Cleveland Cavs
The Central can be argued as one of the best divisions in the NBA. It's too bad I have the Cavs this low after making the NBA Finals. Lebron James will put up MVP-like numbers again. Daniel Gibson is an up and coming NBA point guard and if Larry Hughes can stay healthy they'll have another vital scoring option.
4. Indiana Pacers
This team no doubt has a lot of scoring threats. Jermaine O'Neal will look to lead this team to the playoffs, but it will be very tough fighting for a position with the Pistons, Bulls, and Cavs. Danny Granger is another scoring option for Indiana. All, they need is the bench to contribute better and they could be a good team.
5. Milwaukee Bucks
They're a mixed team with young and old players. Michael Redd will be a top scorer in the league again but I don't think they have enough depth to move up in the division.
Southeast
1.
Washington Wizards

I really think this team could have gone deep into the playoffs had Gilbert Arenas been healthy. They can no doubt score but if they want to contend for a title then they need to pick it up on defense. As long as Arenas stays healthy I believe the Wiz will make a run.

2. Miami Heat
Once Dwayne Wade comes back this team will be one of the best in East again. Shaq lost some weight, which should help his own cause and possibly put his numbers back up a bit. Also, Ricky Davis was a great addition to help fill in for Wade while he's out. Davis will be one of the best sixth mans in the league.

3. Orlando Magic
The Magic are a young and up-coming team. With the addition of Rashard Lewis it's just what they were looking for, a top-notch scorer to help out Dwight Howard. The play of Hedo Turkoglu and J.J. Redick will be key in the teams success.

4. Atlanta Hawks
This team has a lot of potential, maybe they can put it all together for a whole season; if they can do that they could possibly make a run at the playoffs.
5. Charlotte Bobcats
Pretty young team, they do have Jason Richardson to help with the scoring, but in the long term run I don't think it was what this franchise needed.
Eastern Playoff Predictions:
Celtics over Raptors
Pistons over Nets
Wizards over Cavs
Bulls over Heat
Celtics over Bulls
Wizards over Pistons
Celtics
over Wizards
Come back tomorrow for the Western Conference Preview.