College Football is upon us again and it's time for some more analysis and predictions. Last week I went 6-4.


USC at Nebraska

USC looked mediocre at best against Idaho in week 1. But expect the Trojans to look like their old selves again. USC is still the best team in the country. They should be a 14 point favorite. Nebraska
looked iffy for awhile to beat Nevada and last week squeaked out a win at Wake Forest. Since the game is in Lincoln, they definitely can play with USC and make it a game, at least till the 4th quarter, but that last quarter will be the difference.
The Pick:
USC
Louisvile at Kentucky

This should be a shootout with two high octane offenses and okay defenses going at it. Two of the best QBs in the nation will square off in Brian Brohm and Andre Woodson. Louisville's defense is a cause for a concern giving up 42 disheartening points to Middle Tennessee. Kentucky is very capable of pulling off an upset and in order for the Cards to win they need their defense to make some stops.
The Pick:
Louisville
Ohio St. at Washington

Washington is a better team then I expected thus far. Ohio St. looked okay their first two games. But sometimes it does take sometime for an offense to adjust with a new QB. I particularly like Washington's upset over Boise St., here's another chance for the Huskies to strut their stuff with the toughest schedule in the nation. But OSU is better coached and just has more play makers.
The Picks:
Ohio St.
Boston College at Georgia Tech

BC's offense hasn't had any trouble putting up points. I expect this game to be in the 30's. Tashard
Choice is an underrated RB and shouldn't have any trouble producing against BC's Defense. Georgia Tech has had no trouble putting up points either but they have yet to play a quality opponent. Let's see how they fare against a ranked conference foe.
The Pick:
Georgia Tech
Arkansas at Alabama

The Crimson Tide will look to get revenge on Arkansas after a heart breaking loss to them last season. Bama will need to contain Darren McFadden, the best RB in the country. Bama is sitting pretty nicely right now because the Razorbacks have quite a few key players out with injuries in this game. This should be a great game once again.
The Pick:
Alabama
Upset of the Week
UNLV over Hawaii

UNLV took a very good Wisconsin Badgers team down to the wire. Hawaii's Defense is mediocre and UNLV's isn't bad and could possibly hold down Colt Brennan and Hawaii's Offense. Also, Hawaii had to go into O.T. last week to beat a bad Louisiana Tech team.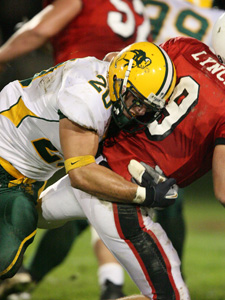 D-1AA (FCS) Game of the Week

Sam Houston St. at North Dakota St
.
Two of the best FCS QBs will take the field as the 14th ranked FCS team takes on the 4th ranked FCS team. (I will be in attendance as will
grittysquirrels
). NDSU did struggle in the opener vs. Stephen F. Austin, but 5 turnovers didn't help their cause, which included 4 INTs by NDSU's Steve Walker (he had 4 all of '06). Also, LB Ramon Humber will be back after missing last weeks game due to a suspension. But Sam Houston St. didn't look too good either in their opener with a 17-13 win over D-2 Angelo St. As for NDSU, last week was only their first game and most coaches will tell you that teams make their best stride between the 1st and 2nd game of the season.
The Pick:
NDSU
Game of the Week


Tennessee at Florida

Another game that I am pumped up for is the annual showdown between the rivals of Tennessee and Florida. Tennessee didn't impress me much against Cal and they looked okay
against Southern Mississippi. Erik Ainge doesn't have anyone to throw to and the defense has struggled so far; and now they're playing against one of the best offenses in the country in Florida. There's no doubt in my mind Florida will be able to put up a boat load of points against the Vols' D, but can their young defense make some stops and keep them out of the game? Good thing the game is in the Swamp.
The Pick:
Florida