Time for some predictions and analysis. Last week I was 5-3. Just bare with me here with a rather lackluster weekend of College Football.


Iowa at Wisconsin
Wisconsin has struggled lately and Iowa could knock them off here. Iowa did lose to Iowa St. last week, but I do expect them to bounce back and give the Badgers a good fight. P.J. Hill will carry a heavy load in this game.
The Pick:
Wisconsin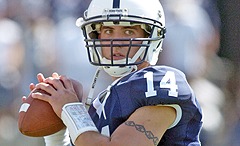 Penn St. at Michigan

The Nittany Lions Defense has been pretty solid so far and the offense has been impressive as well. Michigan looked good last week against Notre Dame, but who knows how they will play this weekend; plus it doesn't help that Chad Henne is still out. They can't afford another loss in the Big House. PSU is one of the favorites for the Big Ten Title and a win here vs. Michigan would be huge, which is something they haven't done in 11 years.
The Pick: Penn St.
Georgia at Alabama

One of the better games of the week. Georgia struggled two weeks ago against a pretty good defense in South Carolina. Alabama's Defense isn't bad but their offense has flourished with John Parker Wilson throwing for 666 yards and 4 TD, while DJ Hall has 291 yards receiving and 2 TD. Should be a close game the whole way.
The Pick:
Alabama
Kentucky at Arkansas

This should be a high-scoring affair with both defenses being sub-par. The offenses can no doubt put up points. Arkansas will have a hard time containing Andre Woodson, but Kentucky has to put up with the best running back duo in the country in Darren McFadden and Felix Jones.
The Pick:
Arkansas
Upset of the Week


North Dakota St. over Central Michigan

I may have rose colored glasses, but this one just makes the most sense. NDSU can put up points all day on CMU's D. But I am concerned about NDSU's Secondary, who has given up numerous big plays thus far. Rhett Bomar tore them apart last week and with CMU's big WRs and
good QB
it will probably be the same. I don't think CMU will be able to run on NDSU's front seven though. Joe Mays, Ramon Humber, and Matt Maresh are probably the best LB unit in the FCS. It's going to be a close game. But this is a similar situation to before NDSU's game vs. Minnesota last year. They weren't supposed to line up with the Gophers. They were supposed to tear the Bison apart and NDSU smacked them right in the mouth the entire game; they didn't win, but NDSU showed they can play with 1-A competition. CMU better not be looking ahead to N. Illinois, or else they'll be looking back to Sept. 22 for the rest of the season.
D-1AA (FCS) Game of the Week


Appalachian St. at Wofford

App. St. is no doubt the best FCS team
, but Wofford could give them some fits. Woffords Offense has put up some respectable points, blowing out Charleston Southern and put up 353 total yards vs. NC St. Other than Michigan, this could be the Mountaineers biggest test of the regular season.
The Pick:
Appalachian St.
Game of the Week


South Carolina at LSU
SC could actually give LSU a test in Baton Rouge. Their defense has been solid and their offense is averaging 27.3 PPG. Steve Spurrier finally has this team where he wants them and their sneaking up on people. But LSU on the other hand does indeed have the best defense in the country; it looks like Matt Flynn will be out again, but SC will need to be perfect in order to top LSU.
The Pick:
LSU
More Predictions:
Complete Sports