The Sports Flow has added a new topic to it's blog, titled: "Hot or Not". I (Stefan or even Joe) will be giving you a "Hot or Not" list once a week; and to help us out you can suggest some athletes or teams, for that matter, of your own who have been on a hot streak. Leave your suggestions here if you'd like for future reference: thesportsflow@hotmail.com

Hot
Seattle Mariners
The M's have won 10 of their last 11 games and are currently on an 8 game winning streak. Seattle is catching up and starting to give the Angels a run for their money in the AL West. Also, how about sweeping the majors best Boston Red Sox to go along with the streak.

Chone Figgins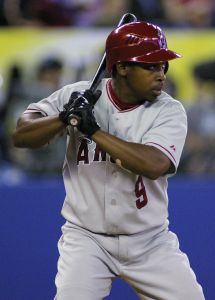 Figgins had at least one hit in 24 of 25 games in the month of June, 51 altogether; not bad at all...
Dario Franchilli
Franchilli has 8 straight top finishes to go with his 3 victories. The reigning Indy 500 champ was dominant for the second week in a row, leading all but eight laps Saturday night - a series record - to win at Richmond International Raceway.
Portland Trail Blazers
The Blazers made a wise choice with their number one pick selecting Greg Oden and also got late round steals in Rudy Fernandez and Petteri Koponen. Josh McRoberts is a good pick in the 2nd round as well. Even with trading Zach Randolph, they saved about an estimated $30 million in salaries.
Tampa Bay Devils Rays
The D-Rays have lost 14 of their last 18 and are currently on a season high 7 game losing skid. Tampa Bay hasn't helped their pitchers cause with the lack of run support. Plus, it doesn't help at all with B.J. Upton being banged up.
Morgan Ensberg
In the month of June Ensberg was 7 for 47 and recorded a hit in only 6 of 18 games. Ensberg has seen less and less playing time after the recent quality play of Mike Lamb.
Aric Amirola
After leading the Busch series race last Saturday (and technically winning) Amirola was pulled after teammate Denny Hamlin showed up late and took the checkered flag. Almirola drove the car in practice and qualified it on the pole, but was never supposed to drive it.
Charlotte Bobcats
I completely agree with Stephen A. Smith and incompletely agree with
Complete Sports
on the Bobcats draft. This team is trying to rebuild, and they send a stud versatile forward in Brandan Wright to Golden St. for Jason Richardson? Wright may be a few years away, but he has great upside, he played just up the road at Chapel Hill under Roy Williams and once his weight catches up to him, he'll be a great player. In my eyes, Wright is a great talent to build around. J-Rich is an overplayed player and wasn't even the best player on the Warriors. He played for himself and was pretty inconsistent at times; he is not a franchise player. This move will cost Charlotte a ton of money and will pay for it.