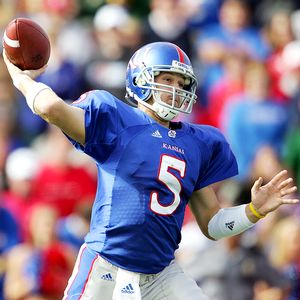 The 10 best College Football games of the 2008 season according to TSF starts today with day 1 of 10.
Kansas at South Florida
Preview:
The reigning Orange Bowl Champs take on the South Florida Bulls in a clash of preseason top 25 squads. KU is looking to not only win the Big 12 North but the Big 12 as well. The Kansas offense should be loaded again with QB Todd Reesing and a pair of good WRs returning. The offensive line should be solid with a bundle of starters back there. The defense returns nearly everybody except for star Aquib Talib. South Florida started last season on an uproar but finished pretty lousy. This year they're looking to nab the Big East title. The Bulls should be loaded again with QB Matt Grothe, RB Mike Ford, and DE George Selvie back to lead the team. The defense has some holes to fill, especially at DB.
Offensive Player to watch:
Mike Ford, RB- USF
Defensive player to watch:
Joe Mortensen, LB- USF
Outlook:
This should be a great early season game to watch on September 12. Both teams are looking to win their conference and seek a bid to a BCS Bowl. This would be a big SOS booster and win for either team if they want to contend for a BCS Bowl and possibly a national title berth. Both teams return plenty of experience and talent from their 2007 squads. Expect this to be a down to the wire game with both offense's putting up a decent amount of points and the defense's giving up several big plays.
Early Prediction:

South Florida
27
Kansas
24
USF will win on a late field goal to preserve the win. USF has a lot of talent and I really like Matt Grothe over Todd Reesing because he's more proven. The stable of backs for the Bulls will help them rack up some yards and the WRs are talented enough to make plays over the KU DBs. The early departure of CB Aquib Talib will really hurt them in the secondary. USF just plays too good at home. But overall, this will be a close match up with it finishing either way.