Friday I was very tuned and interested in watching basketball almost as much as March Madness.

When it comes to USA Basketball, I am a big fan. I am a fan of almost any national team. Whether it's basketball, soccer, or the whole Olympics in general. Maybe it's because I have a great sense of pride for my country, maybe not I don't know. But there's something about watching our countries teams.

The first quarter I was kinda not impressed with Team USA at all. They struggled a little bit with some stupid and mental turnovers and mistakes. They missed some rather easy and uncontested shots and gave up some offensive boards.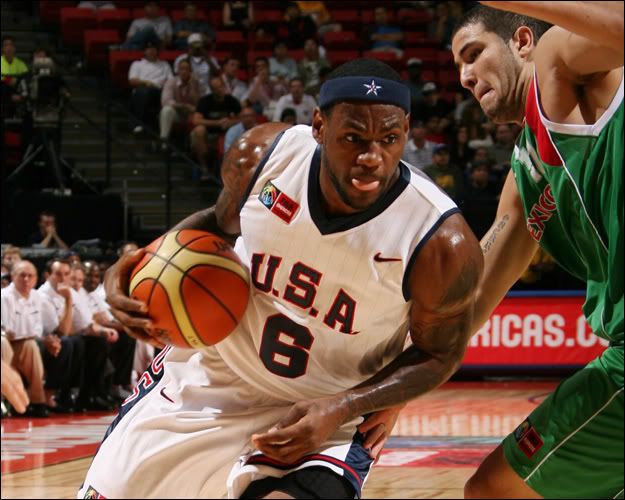 But maybe I was expecting too much too soon.

After watching the USA's dominance of the world in the sport of basketball when I was a little kid, I guess I just want to see that happen again.

With the way this team played last year in the Tournament of Americas, there's no doubt in my mind they will win the Olympics.

But the way they played in the first quarter it just seemed like another typical American basketball team.

It wasn't until after that first quarter, I was reassured we're going to win the Olympics. The way they played defense Friday in their 120-65 victory over Canada. This team since 2000 hasn't played any defense at all, which is why they've faltered in the past Olympics and World Championships.

They were impressive on both ends of the floor. They were defending the pick-and-roll for once, they were playing physical and making Canada earn their shots. This is what they need to do every game. Their defense stood out last night. They made the Canadians fights for their points and nothing came easy. The defensive was aggressive and feisty. Which was a site for sore eyes.

And because of this great defensive effort, the offense came a little easier. If they can play defense like this at the Olympics, they will have no problem putting up point after point.

Also, they finally looked like a team instead of a bunch of individual players put together. They shared the ball, they ran an offense, they took care of the ball, and they had tremendous shot selection. They had the chemistry and they actually looked like a real team.

This is America's time. Time for us to be back on top of the basketball world.