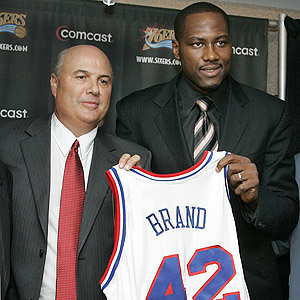 Today Elton Brand became a Philadelphia 76er. This certainly made one fellow blogger very happy. Brand netted a 5-year $79.795 million contract with the Philadelphia 76ers.

I personally feel like this is going to make the 76ers serious contenders in the East. While many argue that Elton Brand is not a good low post scorer or even a great number 2 man is ridiculous. This is exactly what Bill Simmons said in his newest
podcast
dated 7/9. He justifies this argument by saying that in playing 40 mins a game Brand should be averaging 20 and 10. Now, I love Bill Simmons as much as anyone but only 5 players have averaged that in their career in the last 20 years. Therefore I must respectfully disagree. Elton Brand is a stud and can score in the low post and is a viable number 1 scorer. I also foresee him to have even more success now as he competes in a weaker PF pool in the East.
Now, take a look at the 76ers potential starting 5:
PG-Andre Miller
SG-Andre Iguodala
SF-Thad Young
PF-Elton Brand
C-Samuel Dalembert
Miller is a underrated veteran PG, Iggy and Thad are both up-and-coming athletic studs, and Sam Dalembert is a freakish defender. Add a solid bench to that, along with the young guys development and the possible addition of an outside shooter and I see an immediate contender, not just this year, but for years to come. With Brand as a top-of-the-line PF in the East the Sixers are instantly relevant for the next 5 years.